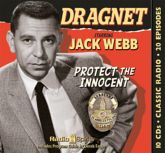 Series creator Jack Webb stars as painstaking public servant Sergeant Joe Friday. Barton Yarborough co-stars as Sergeant Ben Romero; with Peggy Webber as Ma Friday; Tol Avery as Thad Brown, Chief of Detectives; and Herb Butterfield as lab technician Lieutenant Lee Jones. Includes a Program Guide.


20 digitally remastered episodes on 10 audio CDs.





MORE DETAILS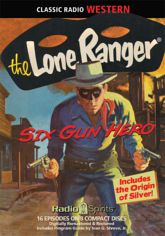 Join the most heroic figure ever to fight injustice on the sweeping plains of the great American West in 16 thrilling adventures! Be there when the daring and resourceful masked rider finds the wild white stallion that he would tame...and name Silver. Ride along through three four-part serials, one of which involves the legendary gunsmith Samuel Colt.


Earle Graser and Brace Beemer star as The Lone Ranger, with John Todd as Tonto. WXYZ regulars Paul Sutton, Ernie Winstanley, Jay Michael, and more round out the cast of saddle savvy characters. Includes a Program Guide.


16 digitally remastered episodes on 8 audio CDs.





MORE DETAILS


| | |
| --- | --- |
| | When Radio Was is Radio Spirits' nationally syndicated radio program which is hosted by old-time radio expert Greg Bell. Tune in today and enjoy the best of old-time radio! |






ADD TO CART

Sherlock Holmes: Cue For Murder
Through tales of ancient curses and international spies…through mysteries featuring men of title and creatures of the night…Tom Conway gives voice to Sir Arthur Conan Doyle's clever creation: Sherlock Holmes.


The cerebral sleuth is accompanied and assisted by the able Dr. Watson, brought to life by Nigel Bruce. Also heard in these 16 digitally remastered and restored episodes are Ben Wright, Peggy Webber, Lurene Tuttle, Edgar Barrier, and Maxine Marx -- along with Mary Gordon as Mrs. Hudson and Frederick Worlock as Lestrade. Includes a Program Guide


Read more details...
ONLY $31.95






ADD TO CART

Great Radio Horror
The screams…the grisly sound effects...the rumbling organ music. Sounds in the dark come strange, mysterious, and terrifying in twenty-one episodes of such classic series as Lights Out, Inner Sanctum, Suspense, and many more.


Spine-chilling tales by Edgar Allan Poe, Guy de Maupassant, Arch Oboler, Robert A. Arthur, David Kogan, and Alonzo Deen Cole dabble in dark realms. Boris Karloff, Maurice Tarplin, Paul McGrath, and Bernard Lenrow deliver pulse-pounding performances as the haunted and the hypnotized who come face to face with forces beyond their comprehension.


Read more details...
ONLY $39.98






ADD TO CART

Bergen & McCarthy: W.C. Fields & Friends
Here's one of radio's greatest comic rivalries: the blustery W. C. Fields facing off against the impudent Charlie McCarthy! You'll also hear Don Ameche, Dorothy Lamour, Nelson Eddy, and some guy named Edgar Bergen!


The pomposity of Fields' comic persona clashes spectacularly with Charlie's, the foe of the haughty and the self-absorbed, in their no holds barred feud. Before and after their battles, the more composed Bergen plays host to a variety of guest stars, including Carole Lombard, Hoagy Carmichael, Rodgers & Hart, and more.


Read more details...
ONLY $31.95






ADD TO CART

Suspense: Ties That Bind
To what lengths will people go to protect their children? Spite their siblings? Murder the missus? Find out in twenty one digitally remastered and restored episodes, spanning two decades of radio's outstanding theater of thrills.


These sensational stories star Jack Webb, Mickey Rooney, Edward G. Robinson, Keenan Wynn, Van Johnson, John Dehner, Howard Duff, and more as members of fascinating families...with a rope around every neck and a knife in every back! We always hurt the ones we love.


Read more details...
ONLY $39.98






ADD TO CART

The Man From Homicide
Always handy with a pack of gum -- and a set of keys that allowed him entry to any premises at will -- Lt. Lou Dana had a reputation for playing rough. Relying on uniformed officers, police photographers, and the beloved "lab boys," he often apprehends the killers single-handedly...and at great personal peril.


Dan Duryea stars as Dana, with Sgt. Meyers portrayed by Larry Dobkin. The cast is completed by Gloria Blondell, Arthur Q. Bryan, Joan Banks, Herb Butterfield, Lamont Johnson, and more.


Read more details...
ONLY $19.95






ADD TO CART

Phil Harris - Alice Faye Show: Smoother and Sweeter
Struggling to make his down-and-out orchestra plucky and profitable, Phil Harris conducts his zany sidekick, winsome wife, precocious kids, and grouchy grocery boy through a symphony of silliness. If you long for a series where the drinks are stiff and the whimsy is wicked, you've come to the right place!


This 10 CD set includes 20 digitally restored and remastered episodes, many of which are available for the first time anywhere.


Read more details...
ONLY $39.98








Phil Harris-Alice Faye Show
Frankie & The Flying Saucers
Originally broadcast: 4/2/1950

Fibber McGee & Molly
Fibber's Eye Exam - Part 1
Originally broadcast: 4/15/1941


---
You can also listen FREE on your iPhone or Android device:


Click here for our FREE iPhone App

Click here for our FREE Android App


Use the pulldown to find a Radio Spirits broadcast affiliate in your area!