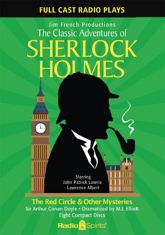 The fog is thick, the atmosphere is heavy, and the game's afoot once again! World famous consulting detective Sherlock Holmes and his trusted aide Dr. Watson roam the streets of Victorian London in search of the vital clues that will bring malefactors to justice! Adapted from the original stories by Sir Arthur Conan Doyle, and produced by Jim French, The Classic Adventures of Sherlock Holmes is radio drama at its 21st Century best! John Patrick Lowrie stars as Holmes, with Lawrence Albert as Watson.


16 digitally remastered episodes on 8 audio CDs.





MORE DETAILS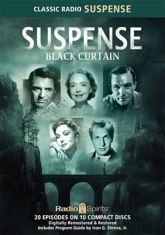 Join your host, The Man in Black, for twenty gripping installments of Suspense (including the first ever broadcast of "Sorry, Wrong Number"). Legends like Cary Grant, Agnes Moorehead, Peter Lorre, Vincent Price, Orson Welles, and Gene Kelly star. Enjoy these tales well calculated to keep you in…Suspense! Includes a Program Guide.


20 digitally remastered episodes on 10 audio CDs.





MORE DETAILS


| | |
| --- | --- |
| | When Radio Was is Radio Spirits' nationally syndicated radio program which is hosted by old-time radio expert Greg Bell. Tune in today and enjoy the best of old-time radio! |






ADD TO CART

Dragnet: The Big Make
Listen in as Joe Friday and Ben Romero keep Los Angeles safe from killers, burglars, swindlers, and common punks. Webb was one of the most distinctive actors, directors, and producers ever to work in American radio. And the episodes you're about to hear will demonstrate that. Includes a Program Guide.
Read more details...
ONLY $39.98






ADD TO CART

The Avenger
Jim Brandon is a biochemist, a scientific marvel, a master of the Black Light of Invisibility. He's The Avenger! This classic pulp hero was adapted for radio, continuing to fight evil-doers with the help of the Telepathic Indicator and the Diffusion Capsule. James Monks and Richard Janaver portray the inimitable scientist, with Helene Adamson as his lovely assistant Fern Collier (his only confidant). James LaCurto and Lawson Zerbe are heard as the gruff Inspector White. Includes a Program Guide.
Read more details...
ONLY $39.98






ADD TO CART

Frontier Gentleman: The Violent Years
Jeremy Brian Kendall rides the untamed West as an observer, a chronicler, and a reluctant participant. As a correspondent for an English newspaper, Kendall explains the wild frontier to his readers in all its bold color. John Dehner stars as J. B. Kendall in 21 classic episodes of this unique, distinctive Western. These broadcasts include some of the finest talent ever to ride the radio range, including Larry Dobkin, Harry Bartell, Vic Perrin, Ted De Corsia, Virginia Gregg, and Parley Baer. Includes a Program Guide.
Read more details...
ONLY $39.98






ADD TO CART

Box Thirteen: Hot Box
Dan Holiday learned about crime as a hard-boiled newspaper reporter, and writes about it as a best-selling mystery novelist. How does he find his plot ideas? He advertises for adventure! Sound like a man you'd like to know? Drop him a note care of Box Thirteen. Sylvia Picker plays Suzy, Holiday's gal Friday, and Edmund McDonald is the irascible Lieutenant Kling. Film favorite Alan Ladd brings on plenty of swagger as the star of these sixteen punchy radio crime thrillers! Includes a Program Guide.
Read more details...
ONLY $31.95






ADD TO CART

Great Radio Private Eyes
From the darkest, foggiest, most rain-swept streets of your imagination come The Great Radio Private Eyes! Detectives, investigators, shamuses all -- here's a legion of radio's best-remembered gumshoes taking on all comers in a wide-ranging collection of thrill-packed cases of crime. They're all here! From Bulldog Drummond to Candy Matson, from the urbane world of The Falcon to the grubby dockside world of Pat Novak -- get set for classic radio drama at its most compelling! Includes a Program Guide.
Read more details...
ONLY $39.98






ADD TO CART

Gunsmoke: The Hunter
These searing dramas of frontier life -- told with honesty, sensitivity, and nail-biting tension -- feature William Conrad as Marshal Matt Dillon. Here are 24 unforgettable adventures of the Old West, originally broadcast between 1956 and 1958. Parley Baer co-stars as Chester, with Howard McNear as Doc, and Georgia Ellis as Kitty. Includes a Program Guide.
Read more details...
ONLY $39.98








The Great Gildersleeve
Gildy Contemplates Marriage
Originally broadcast: 3/15/1950

Jack Benny Program
Seventh Hole At Hillcrest CC - Part 1
Originally broadcast: 10/26/1947




Use the pulldown to find a Radio Spirits broadcast affiliate in your area!