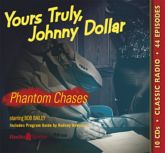 Bob Bailey stars as the dynamic Dollar as he faces fraud, fatalities, and phantom chases. He attends the inscrutable insured, including a doctor who won't see patients, a boxer who shouldn't step inside a ring, and a violinist who wouldn't play…and then couldn't be found. When people die of accidents that were on purpose, or of premeditated natural causes, Johnny brings the justice and the killers get caught.


44 digitally remastered episodes on 10 audio CDs.





MORE DETAILS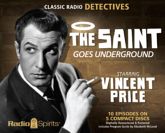 Vincent Price stars as Simon Templar, an elegant, sophisticated character with a sly sense of humor and impeccable cool. He is criminal in many of his actions, a thief, a liar, a rake, and a rogue - but, he is a criminal with a conscience.


Better known as "The Saint," Templar is a freelance troubleshooter who helps people out of desperate situations without so much as spoiling his shoeshine. Combining his Continental flair for high living with a deep sense of concern for those who have somehow been wronged by life, he is in every possible way smarter, and funnier than any of the devils he faces.


10 digitally remastered episodes on 5 audio CDs.





MORE DETAILS


| | |
| --- | --- |
| | When Radio Was is Radio Spirits' nationally syndicated radio program which is hosted by old-time radio expert Greg Bell. Tune in today and enjoy the best of old-time radio! |






ADD TO CART

Jack Benny: Tall Tales
Jack Benny was a fearless combat pilot, a brilliant-but-troubled surgeon, the terror of the high seas, and the hero of every conceivable caper. There was nothing Jack Benny couldn't do, or hadn't done. To hear him tell it, anyway.


The classic Benny persona fit hilariously into hundreds of ridiculous roles, from rough-and-ready adventurers to athletic heroes to romantic lovers and back again. Here's a collection of some of Jack's most fabulous guises! Includes a Program Guide.


Read more details...
ONLY $19.95






ADD TO CART

Mr. Keen, Tracer of Lost Persons: Murder in the Air
Someday he'll find you. Mr. Keen, that is! Radio's famous tracer of lost persons is back in this eight episode collection of puzzling mystery tales.


Jim Kelly is heard as Mike Clancy -- Saints preserve us! -- and Bennett Kilpack stars as the kindly old investigator in some of his "most celebrated cases." Includes a Program Guide.


Read more details...
ONLY $19.95






ADD TO CART

Jeff Regan, Investigator: Stand By For Mystery
Hard as nails and every bit as sharp, that's Jeff Regan, Investigator!


Listen in as the top operative of the International Detective Bureau, and his boss Anthony J. Lyon, scratch the underbelly of postwar urban crime in twelve digitally restored and remastered episodes. Frank Graham and Paul Dubov star as Regan, alongside Frank Nelson, William Conrad, Arthur Q. Bryan, Lurene Tuttle, and more. Includes a Program Guide


Read more details...
ONLY $24.95






ADD TO CART

D-Day Radio Broadcasts
The June 6th, 1944 Allied D-Day invasion of Nazi-occupied France was the turning point of World War II, and the most important news event of the radio era. The invasion received wall-to-wall coverage, with correspondents from every network in the field and on the spot to keep the American public up to date on every step of the dramatic and historical events.


Here are ten hours of radio broadcasts covering the highlights of the first twenty-four hours of that unforgettable event.


Read more details...
ONLY $39.98






ADD TO CART

The Adventures of Sherlock Holmes
Sir John Gielgud stars as Sherlock Holmes with Sir Ralph Richardson as Dr. Watson. John's brother, Val Gielgud, the celebrated mystery author and producer, directs several episodes and co-stars in one of them…as Sherlock's brother! As a finishing touch, Orson Welles plays the evil Moriarty.


The shows created by this very special team are possibly the greatest Sherlock Holmes radio programs ever produced. This set features all sixteen episodes in their most complete surviving examples -- taken from what currently exists of the syndication masters.


Come hear tales of mystery and murder, espionage and intrigue, revenge and resolution in the gas-lit London of Queen Victoria, hansom cabs, and one brilliant Baker Street detective. Includes a Program Guide.


Read more details...
ONLY $31.95






ADD TO CART

Boston Blackie: Outside the Law
A friend to those who have no friends, an enemy to those who make him an enemy! From out of the darkened streets of radio's imagination comes the legendary criminal-turned-crime-fighter Boston Blackie! Starring Chester Morris, radio's first Blackie -- and Richard Kollmar, who became his true radio voice -- here are twelve great episodes of this beloved crime thriller!


Join co-stars Jan Miner, Tony Barrett, Maurice Tarplin, and Lesley Woods in capers of diamonds and double cross, of black markets and blood stains. But, be careful…even Inspector Farraday gets shot! Includes a Program Guide.


Read more details...
ONLY $24.95








Mysterious Traveler
Beware of Tomorrow
Originally broadcast: 4/9/1944

The Passing Parade
The American Black Chamber
Originally broadcast: 4/23/1949


---
You can also listen FREE on your iPhone or Android device:


Click here for our FREE iPhone App

Click here for our FREE Android App


Use the pulldown to find a Radio Spirits broadcast affiliate in your area!