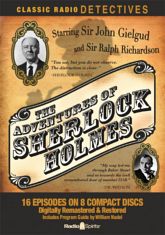 Sir John Gielgud stars as Sherlock Holmes with Sir Ralph Richardson as Dr. Watson. John's brother, Val Gielgud, the celebrated mystery author and producer, directs several episodes and co-stars in one of them…as Sherlock's brother! As a finishing touch, Orson Welles plays the evil Moriarty.


The shows created by this very special team are possibly the greatest Sherlock Holmes radio programs ever produced. This set features all sixteen episodes in their most complete surviving examples -- taken from what currently exists of the syndication masters.


16 digitally remastered episodes on 8 audio CDs.





MORE DETAILS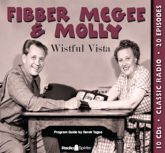 Jim & Marian Jordan star as Fibber and Molly McGee, holding down the homefront in these war year episodes. Fighting the battle of Wistful Vista involves volunteering for the Red Cross, dealing with shortages, contributing to scrap metal and War Bond drives, and sending letters by V-Mail...plus keeping an eye out for spies and an ear out for patriotic songs performed by The King's Men.


Determined to do their part, the McGee's even take in munitions factory worker Alice Darling, played by Shirley Mitchell, as a boarder. Housekeeper Beulah, played by Marlin Hurt, is always on hand, along with regular supporting cast members Gale and Virginia Gordon, Bill Thompson, Arthur Q. Bryan, Ransom Sherman, Isabel Randolph, Marlin Hurt, and announcer Harlow Wilcox.


20 digitally remastered episodes on 10 audio CDs.





MORE DETAILS


| | |
| --- | --- |
| | When Radio Was is Radio Spirits' nationally syndicated radio program which is hosted by old-time radio expert Greg Bell. Tune in today and enjoy the best of old-time radio! |






ADD TO CART

Fort Laramie: Volume 2
Radio's Fort Laramie goes above and beyond the call of duty in its attention to authenticity and realism, depicting the harsh existence of soldiers on a U.S. Army post in the 1880's.


As Lee Quince, "Captain of Cavalry," Raymond Burr is a stern-but-sympathetic officer. Vic Perrin co-stars as Sergeant Ken Gorce, with Jack Moyles as Major Daggett, and Harry Bartell as Lieutenant Richard Siberts...


Read more details...
ONLY $39.98






ADD TO CART

Night Beat: Lost Souls
The city after dark is a world of crime and corruption, of mystery and vice, of a thousand stories waiting to be told. And, Frank Lovejoy, as newshound Randy Stone, is just the man to tell them.


Prowling the streets alongside Lovejoy are radio favorites William Conrad, Georgia Ellis, Parley Baer, Lurene Tuttle, Larry Dobkin, Jeanette Nolan, Bill Johnstone, and more. Join them for 16 digitally remastered and restored episodes of radio's greatest newsroom drama.


Read more details...
ONLY $31.95






ADD TO CART

Suspense: The Final Curtain
Radio Spirits dares you to face fog-shrouded streets, escaped madmen, haunted houses, deadly creatures and curses…and the most horrifying thing of all…the heavy curtain descending on the final episode of Suspense.


In this exciting collection, re-live great moments from the last two years of this legendary series. These thrill-packed episodes feature Raymond Edward Johnson, Robert Readick, Paul McGrath, Bernard Lenrow, Jackson Beck, and more in taut, tense tales!


Read more details...
ONLY $39.98






ADD TO CART

Yours Truly, Johnny Dollar: Phantom Chases
Bob Bailey stars as the dynamic Dollar as he faces fraud, fatalities, and phantom chases. He attends the inscrutable insured, including a doctor who won't see patients, a boxer who shouldn't step inside a ring, and a violinist who wouldn't play…and then couldn't be found. When people die of accidents that were on purpose, or of premeditated natural causes, Johnny brings the justice and the killers get caught.


This 10 CD collection features 43 digitally restored and remastered episodes, including such gems as the series only nine part storyline, and an episode of Romance that features Bailey as an impulsive chap named Johnny in a mid-east adventure!


Read more details...
ONLY $39.98






ADD TO CART

Damon Runyon: Broadway Complex
From the pen of legendary raconteur Damon Runyon comes tales of a New York that Never Was But Might Have Been -- a world of smooth-talking card sharks, smiling crap-shooters, cheerful con men and charming rogues.


Featuring radio favorite John Brown as your host, Broadway, Damon Runyon Theater brings to vivid life some of the master's finest short stories. They're positively Runyonesque!


Read more details...
ONLY $19.95






ADD TO CART

Radio Classics: Selected by Greg Bell
Hilarious and thrilling, exciting and thoughtful -- that's what radio was! And, that's what you'll find in Radio Classics, a collection of radio favorites selected by Greg Bell, host of both the popular Radio Classics Channel on Sirius XM Satellite Radio and When Radio Was, Radio Spirit's nationally syndicated radio program heard on broadcast stations around the country.


In addition to the outstanding radio shows featured, you'll hear Greg 's audio introductions to radio legends from Arch Oboler to Fibber McGee and Molly, from Johnny Dollar to Jack Benny, from the rain-swept streets of Philip Marlowe to the cosmic future of X Minus One. Radio Classics brings you everything that made radio classic!


Read more details...
ONLY $39.98








The Mel Blanc Show
Cousin Dottie Visits Betty - Part 2
Originally broadcast: 3/18/1947

The Falcon
Case of the Happy Hoodlum
Originally broadcast: 5/22/1952


---
You can also listen FREE on your iPhone or Android device:


Click here for our FREE iPhone App

Click here for our FREE Android App


Use the pulldown to find a Radio Spirits broadcast affiliate in your area!